We bring you the biggest and best entertainment available for your Fantasy Casino Party! We pull out all the stops and want to offer you the most exciting, captivating game-play to wow your guests. Not seeing a game you wanted at your party? Just ask! We are adding new games all the time.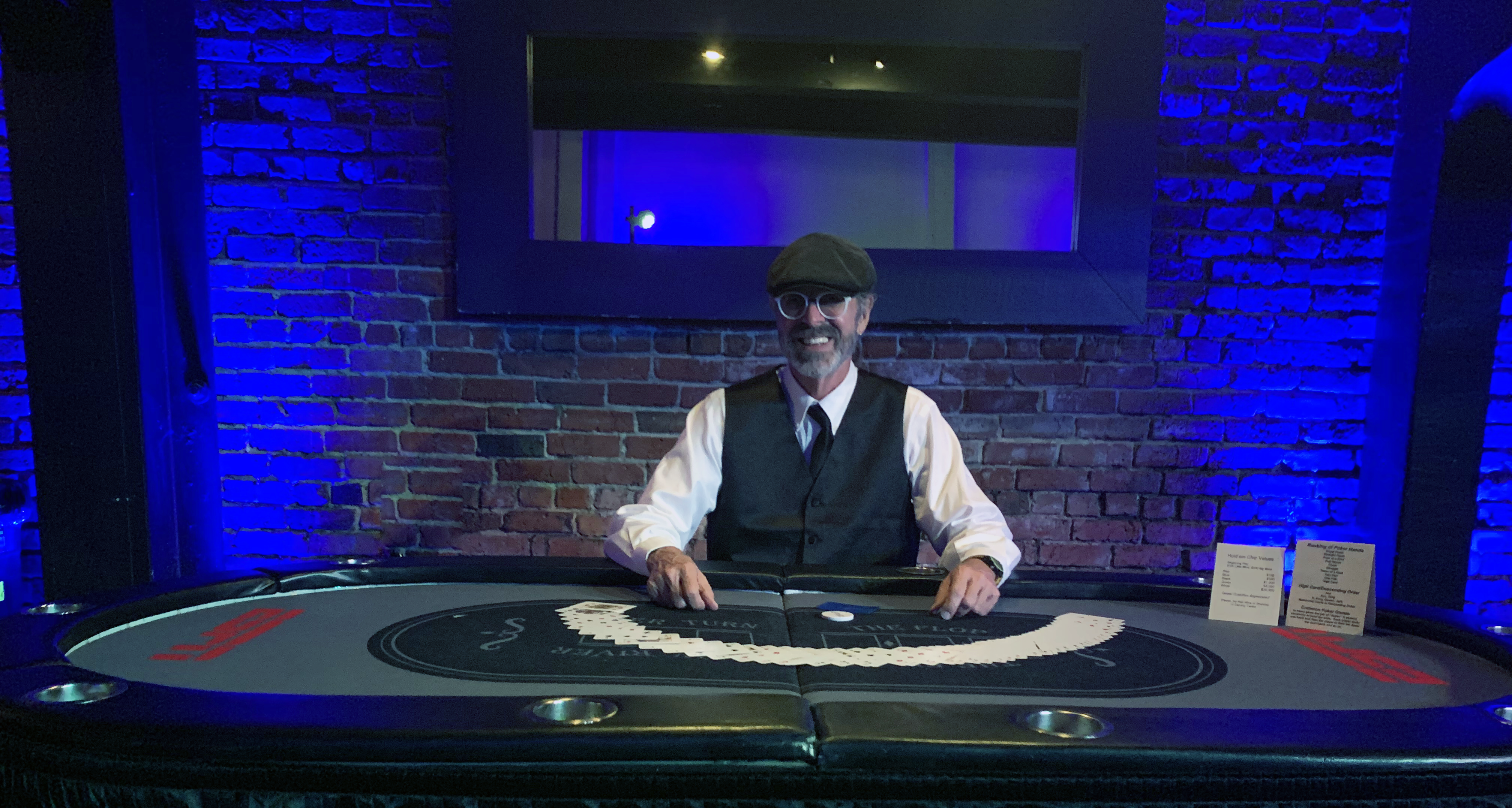 Baccarat or Baccara is a card game played at casinos. It is a comparing card game played between two hands, the "player" and the "banker". Each baccarat coup has three possible outcomes: "player", "banker", and "tie".
Bingo is a game of chance in which each player matches numbers printed in different arrangements on 5×5 cards which the numbers the game host draws at random, marking the selected numbers with tiles.
Blackjack is known as Twenty-One. It is a comparing card game between one or more players and a dealer, where each player in turn competes against the dealer. Players do not compete against each other.
Caribbean stud poker, also called casino stud poker, is a casino table game with rules derived from five-card stud poker. However, unlike standard poker games, Caribbean stud is played against the house rather than against other players. There is no bluffing or other deception.
Craps is a dice game in which the players make wagers on the outcome of the roll, or a series of rolls, of a pair of dice. Players may wager money against each other or a bank.
Keno is a lottery-like gambling game often played at modern casinos, and also offered as a game by some lotteries. Players wager by choosing numbers ranging from 1 through 80.
Let It Ride is a casino table game based on poker, where the player wagers on a five-card poker hand formed by their own three cards and two community cards.
Pai Gow is a Chinese gambling game, played with a set of 32 Chinese dominoes.
Red Dog or Red Dog poker, is a game of chance played with cards. It is a variation of Acey-Deucey or In-between.
Roulette is a casino game named after the French word meaning little wheel. In each play of roulette, a croupier spins a roulette wheel in one direction, then rolls a ball in the opposite direction in a tilted circular track that surrounds the wheel.
Seven-card stud, also known as Seven-Toed Pete or Down-The-River is a variant of stud poker.
Texas hold 'em is a variation of the card game of poker. Two cards, known as hole cards, are dealt face down to each player, and then five community cards are dealt face up in three stages. The stages consist of a series of three cards, later an additional single card, and a final card.
Three Card Poker is a casino table game based on poker.
You can bid on races and become an owner of one of the horses - which earns you MORE money if your horse comes in 1st! Use your gambler's intuition or ask the roving jockey for an inside tip. It's all part of the fun! Everyone will root, cheer, and shout for their favorite horses from the start of the race to the finish line.
Contestants guess hidden phrases by guessing letters one at a time. Contestants win money or prizes, as determined by a spin of the wheel, for each correct consonant they guess. But they have to pay to see what vowels are in a puzzle. The contestant that has amassed the most winnings at the end of a game goes on to play the bonus round, in which the player can win even more.